---
HASANA FOUNDATION BANGLADESH
------- A Charity With A Difference
!! Let us bring smile to the gloomy faces !!
Head Office contact address: Vill: West Shibram pur (Gopalgonj), PO: Mujahid pur, Dist: Dinajpur 5200, Bangladesh
Dhaka Office: Dr. Md. Saifur Rahman, EEE Department, BUET, Dhaka 1000, Bangladesh
e-mail: hfbangladesh@yahoo.com

---
In The Name of Allah, The Most Gracious, The Most Merciful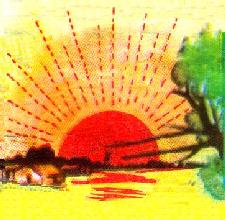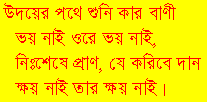 Hasana Foundation Bangladesh is a social welfare organization, which has been set up in Bangladesh with the following aim and objectives.
Through long term development programs Hasana Foundation Bangladesh aims at tackling the root causes of poverty in Bangladesh. It will collect donation from home and abroad and would provide non-interest loan ( 'Karz- E-Hasana'; meaning 'The Best / Noblest Loan') to the poor and needy people.
It will collect Zakat from the Muslims and distribute the fund in the 8 approved sectors.
It will provide subsidized healthcare, sanitation, and drinking water purification system to the poor and needy people.
It will also provide relief to victims of natural disasters such as flood, draught, famine earthquake; and war.
Its field work will begin at Dinajpur district in Bangladesh as a pilot project, and it will gradually make its services available to all the other districts of Bangladesh, and finally, to all over the world, Insha Allah (if God willing!).
Hasana Foundation Bangladesh will help the poor and needy people regardless of race, ethnic origin, colour or religion.

---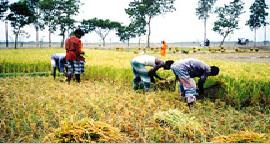 Farmers harvesting Rice paddy at Dinajpur District

---

To start with, Hasana Foundation Bangladesh will provide non-interest loan (Karz-e-Hasana) to the poor and needy people of Bangladesh. The purpose is to make them self-reliant and to enable them to help themselves. We hope that this would ensure them to improve their living standard and promote them to look forward to a better and prosperous future.
---
EARNEST APPEAL TO YOU
---
The work of Hasana Foundation to help the poor in Bnagldesh depends entirely on your generous contributions- your zakah, sadaqah, and other donations - now.

The survey is being conducted now to identify the poor and destitute people who really need financial help. The field workers are sent with a set of specific questionnaire. Meanwhile, the call for the first loan applications has also been announced in May 2003 and the actual distribution is underway.

We will accept donation starting from Taka 100 to any amount you can afford.
We believe something is better than nothing.

Therefore, please feel free to donate whatever you can.

PAYMENT METHODS:
---
If you are residing outside Bangladesh, to know how you can donate please follow the link How to Donate

Alternatively, you can send your cash/cheque to one of our HFB representatives in Bangladesh. To locate an HFB Representative, please follow the link Hasana Foundation Representatives
in Bangladesh and let our dream come true.

We will gladly accept any amount you can afford.
---
May Allah reward you with His bounties in this life and in the life hereafter to support the noble cause.
---
!! Let all of us prosper together !!
---
Here is something for you to visit and browse through.
Courtesy:Hasana Foundation Bangladesh
---